When a Jeanne Marie got groped in a club and told the guy it was inappropriate... this was the result: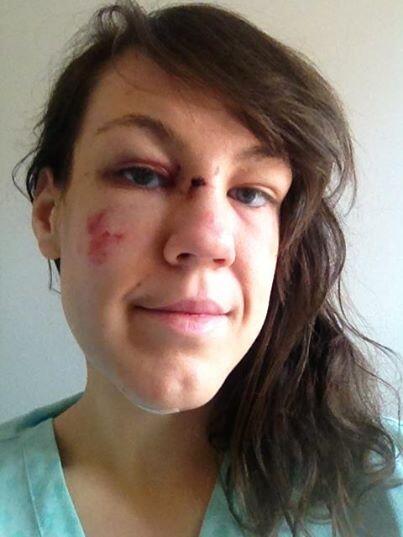 https://twitter.com/damnfewofusleft/status/448110526015369216/photo/1
She was beaten up. But instead of letting her aggressor win she made a stand with this #nomakeupselfie
On Facebook she said this:
for telling a guy in a club who groped me that it is completely inappropriate to
touch a woman without her consent, i was beaten. he told me to "Smile!", too. (www.stoptellingwomentosmile.com)
no, we do not have to wear makeup
no, we do not have to smile
and, most importantly,
no, we do NOT have to be touched.
i'm trying to channel my rage into something constructive, so i'm raising money for the Oxford Sexual Abuse and Rape Crisis Centre (OSARCC). please text OXRC47 £3 to 70070 to donate £3 (or OXRC47 £1 for £1 or OXRC47 £10 for £10, etc.). if you're not in the UK (or don't want to text) please visit my justgiving page to donate here:
http://www.justgiving.com/jeanne-marie
. feel free to share this post, as well.
thanks, friends. sometimes you just have to make the best out of a broken nose, right?"
I think most women have experienced some sort of sexual harassment. I am sad to say that from that from far too early an age onwards I have. By my teens I was enraged by it and have made a stand on many occasion. But the fact that this young woman has made such a public stand is heartening and inspiring.
It frustrates me that some men feel that they can touch a woman without her consent. It absolutely enrages me that they can inflict such damage when someone like Jeanne Marie says no. I hope others will feel inspired to stand up against such abuse, and I hope onlookers will be inspired to stand up and protect such brave women.
Well done Jeanne Marie. I hope you heal and remain strong.